Statistics
15 YEARS OF LEADERSHIP
PRODEXPO – an ever growing and constantly developing exhibition!
For 15 years, the amount of exhibition space rented and the number of exhibiting companies have increased by 5 times!
Prodexpo 2007 set new records!
Over 2 200 exhibiting companies from 60 countries showcased their products in all the pavilions of Expocentre Fairgrounds whose indoor exhibition space cover 90 000 sq m in total!
The steadily growing number of participants and an increase in the amount of the exhibition space rented confirm the significance of the PRODEXPO exhibition to food industry professionals.
For 15 years, PRODEXPO has illustrated:
the highest quality foodstuffs manufactured by global market leaders;
innovative food products:

organic, natural, dietary and functional foods;
high-tech foods (new!!!): convenient food, premium fast foods, dehydrated foods, frozen foods, and vacuum packaged foods;

high-tech equipment for trade and public catering;
innovative materials, equipment and solutions for food packing.
EXHIBITING COMPANIES
Leading domestic and foreign food manufacturers participate in the PRODEXPO exhibition every year!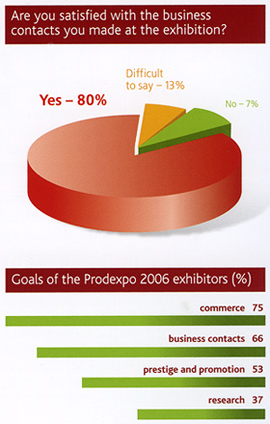 Russian and global food market leaders consider PRODEXPO as the largest and most prestigious food industry exhibition. Participation in PRODEXPO is the guarantee for successful growth and development.
According to the Prodexpo 2006 survey, 3/4 of the exhibiting companies are satisfied with the results of their participation in PRODEXPO. They are also positive it is the best way to demonstrate their products to 50 000 food industry specialists and carry out their marketing tasks for the year ahead!
80 % of the exhibitors say that almost all leading companies of the global food industry participate in the PRODEXPO exhibition, which provides excellent opportunities for establishing business ties.
VISITORS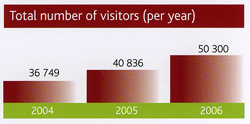 PRODEXPO – Expocentr's largest attended exhibition!
In 2006, it set a new record by reaching 50 000 visits since attendees were first registered at Expocentr's exhibitions.
85 % of the visitors
are food industry professionals interested in establishing new business contacts. They are chief executives, top managers, specialists involved in decision-making and professional decision-makers of food manufacturing and trading enterprises.