Statistics
EXHIBITORS

Geographical representation of exhibitors
Exhibitors from 57 countries took part in Prodexpo'2010:
Argentina
Armenia
Australia
Austria
Azerbaijan
Belarus
Belgium
Brazil
Bulgaria
Canada
Chili
China
Croatia
Cyprus
Czech Republic
Denmark
Estonia
Finland
France

Great Britain
Germany
Greece
Hungary
India
Indonesia
Iran
Ireland
Israel
Italy
Japan
Kazakhstan
Latvia
Lithuania
Malaysia
Mexico
Moldova
Monaco
Mongolia

Netherlands
Peru
Poland
Portugal
Republic of Korea
Romania
Russia
SAR
Serbia
Singapore
Spain
Sri Lanka
Thailand
Tunisia
Turkey
UAE
Ukraine
Uruguay
USA


Participation in Prodexpo is your best business investment. 72% of exhibitors who participated in the event two times or more agree with this idea.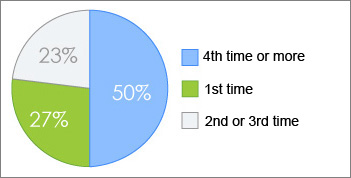 72% of exhibitors believe that they reached all their goals even before the exhibition was over.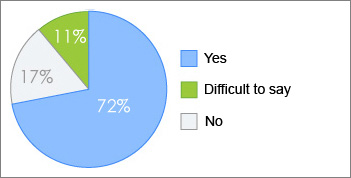 Do the 2010 exhibitors plan to participate in the next edition of the exhibition in 2011?
VISITORS
Every year Prodexpo attracts more and more professional visitors. In 2010, the event was attended by 56,223 people; 51,163 of them were professionals.


Positions of Prodexpo'2010 visitors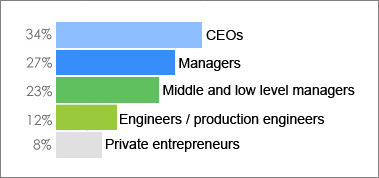 Geographical representation of visitors: in 2010 food industry professionals from all federal districts of Russia and 550 Russian cities and towns. Foreign visitors represented 100 countries including Ukraine, Belarus, Moldova, Kazakhstan, and others.