News
08 / 02 / 2011
PRODEXPO'2011: Russian Food Market Outlook
From February 7 through February 11 Expocentre will host the 18th International Exhibition for Food, Beverages and Food Raw Materials Prodexpo'2011. The exhibition is organized by Expocentre in association with the Ministry of Agriculture of the Russian Federation and the Moscow City Government, under the auspices of the Chamber of Commerce and Industry of the Russian Federation.
Prodexpo carries the logos of UFI – the Global Association of the Exhibition Industry, and RUEF – the Russian Union of Exhibitions and Fairs. It is the largest and most significant in Russia and Eastern Europe food industry annual event defining the Russian food industry trends.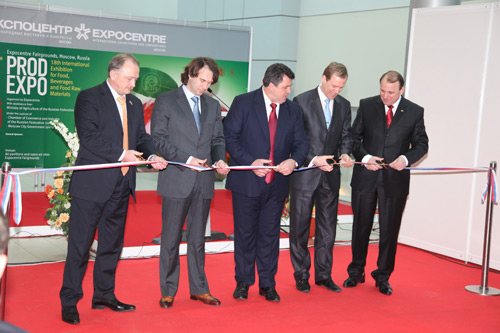 This year the exhibition area of over 85,000 sq. m (net) will accommodate booths of more than 2,000 exhibitors from 55 countries, including 29 countries with their government supported expositions. Companies from Iceland, coming out within the Seafood and Fish Salon at Prodexpo'2011, will add to the foreign component of the exhibition. Bulgaria, Japan, Ireland and Turkey resume their national participation. Number of the Russian Prodexpo exhibitors grows steadily.
The Prodexpo'2011 exposition retains its traditional salon-based structure. Expocentre Pavilions allocate 17 thematic expositions showcasing the whole spectrum of food items. The Ice Cream Salon and the Salon of Equipment and Services will make the next step forward. The largest in Russia exposition of alcoholic production will be presented within the Alcoholic Drinks Salon. The ProdexpoPack'2011 exhibition participants will offer modern packaging solutions for the food industry.
The exhibition business-related program comprises the 6th All-Russian Trade Forum and 5th All-Russia Food Forum, industry conferences, round tables and various competitions.
The exposition of the International Exhibition Prodexpo'2011 will be on display in Pavilions Nos. 1, 2 (including Hall 4, Ground Level), 3, 5, 6, 7, 8 (including Halls 4 and 5, Ground Level), Forum and open-air sites of Expocentre Fairgrounds.
The exhibition is open from 10.00 till 18.00, on February 11 from 10.00 till 16.00.
---