News
13 / 02 / 2012
The Minister of Agriculture of Russia opened the Prodexpo'2012 International Exhibition.
On 13th February the official opening ceremony of the 19th International Exhibition for Food, Beverages and Food Raw Materials Prodexpo'2012 was successfully held at Expocentre Fairgrounds. It is the largest business-related event of the food industry in Russia, CIS countries and Eastern Europe.
The exhibition Prodexpo'2012 was opened by Elena B. Skrynnik, the Minister of Agriculture of Russia.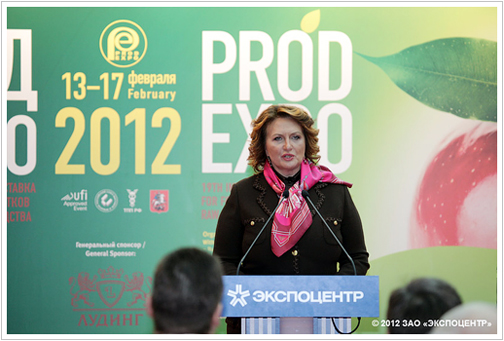 The Minister congratulated the audience on the opening of the exhibition significant for the Russian agriculture. She noted that participation of companies from 55 countries, among which 1500 are Russian enterprises, may be considered as another success that testifies the record results of development of the Russian agriculture.
The Minister of Agriculture of Russia Elena B. Skrynnik visited expositions of Russian and foreign exhibitors and presented certificates to the leading Russian companies for participation in the exhibition.
2100 companies from all over the world put on display their products on 102 000 sq. m of net exhibition space this year that is the record for the whole history of the exhibition. 30 countries participate in the exposition on the state level exhibiting their national pavilions. The companies from Macedonia, which have chosen Prodexpo'2012 as a start on the Russian market, take part in the exhibition for the first time. The companies from Chile represent their national expositions after a long break.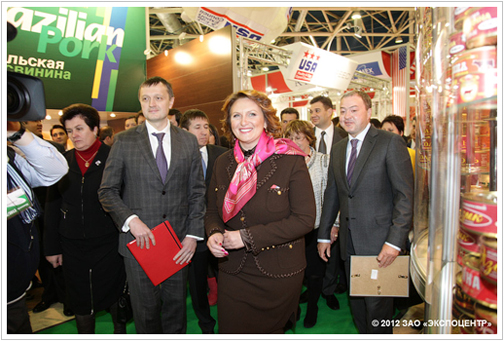 Russian enterprises traditionally have the most representative exposition. "Expocentre" as the organizer of the Prodexpo'2012 expresses deep appreciation to the Ministry of agriculture of Russia, the Chamber of Commerce and Industry of the Russian Federation and the Moscow City Government for the assistance in preparation and realization of the exhibition. A great contribution to the organization of the exhibition was made by the national industrial unions – the National Dairy Producers Union, the Union of Russian Ice Cream Makers, the Union of Russian Sugar Producers, Russian Meat Union, National Packaging Confederation, the Russian Grain Union, the Russian Union of Commodity Producers, Association of Manufacturers and suppliers of food products and other organizations.
The solemn opening ceremony of the international exhibition was attended by the heads of the committees of the Council of Federation of the Federal Assembly of the Russian Federation, the State Duma of the Federal Assembly of Russian Federation, the Chamber of Commerce and Industry of the Russian Federation, the Government of Moscow City and Moscow Region, the representatives of Russian and international professional community.
We invite specialists to visit the exhibition Prodexpo'2012 and participate in the abundant business programme.
The exposition Prodexpo'2012 includes all the pavilions of the Expocentre Fairgrounds, as well as a temporary constructed Central Pavilion.
The exhibition is opened: 13-16 February from 10.00 till 18.00; February 17 from 10.00 till 16.00.
---