News
08 / 02 / 2013
Prodexpo'2013 will be record-breaking in the history of the exhibition
On February 8, 2013, Expocentre held a press conference dedicated to the 20th anniversary edition of the Prodexpo'2013 International Exhibition.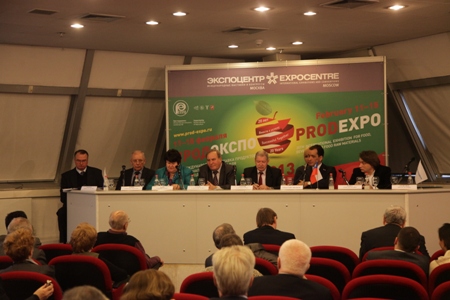 Mikhail Tolkachev, the Deputy General Director of Expocentre, mentioned that the first Prodexpo was held back in 1994. 450 from 39 countries companies participated in the first edition of the exhibition; and only the sixth part of them were Russian exhibitors.
The 20th anniversary Prodexpo'2013 will be the record-breaking one in the history of the exhibition. This year the area of ​​47,500 square meters is a home for 2,244 companies from 63 countries, while Russia is represented by more than 1,450 exhibitors.
34 countries participate at Prodexpo'2013 with national stands. This year's premieres are national expositions of Armenia, Morocco, Paraguay, and Montenegro.
Mikhail Tolkachev also said that Prodexpo'2013 would be the launching pad for a new project by Expocentre – Expocentre For Counterfeit-Free Exhibitions. The project is implemented in accordance with recommendations of UFI, the Global Association of the Exhibition Industry, and its task is to fight demonstration of counterfeit products at exhibitions. A special purpose stand is arranged at Prodexpo'2013 where both exhibitors and visitors can get consultations on issues of protection of intellectual property, and obtain a certificate of an exhibit or a trademark demonstration at the exhibition, as well as get a certificate of demonstration of a registered trademark.
Expocentre For Counterfeit Free Exhibitions will be part of all exhibitions organized by Expocentre so that other exhibition companies can join it.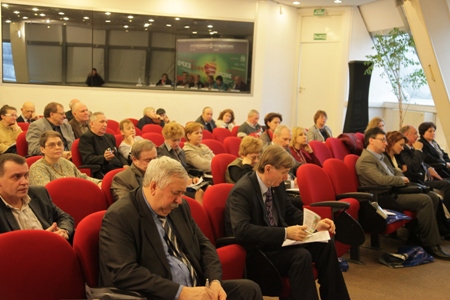 Pro-rector of the K.G. Razumovsky Moscow State University of Technology and Management Sergey Seregin said that since Russia's participation in WTO and in the Customs Union the domestic food industry had stayed stable. Its growth rate in 2012 was 5% (compared to 3% on average in the economy).
The press conference was also attended by Director of the Commercial Counselor at the Embassy of Chile in Russia Sebastian Pilyado who noted that Prodexpo was extremely important for Chilean producers interested in the Russian market. In 2012 the export of food products from Chile to Russia increased by 20%. According to the Trade Representative of Chile, in many respects it was made possible thanks to Prodexpo.
The Salon of Alcoholic Beverages for industry professionals is one of the largest sections of Prodexpo'2013. About 400 companies participate in it.
At the press conference questions were raised about a law on advertising prohibiting alcohol tasting and tasting competitions outside stationary trade facilities. Comments were given by the Federal Antimonopoly Service specifying that an exhibition could not be classified as an advertising campaign and therefore tasting at Prodexpo'2013 would take place.
Within Prodexpo'2013 there will be held the 4th edition of ProdExpoPack specialized exhibition, where the latest packaging solutions for the food industry will be demonstrated by 120 participants from 10 countries.
Press Service
Expocentre ZAO
---