News
11 / 02 / 2010
The Forum Expo Peru-Russia took place at Prodexpo'2010
On February 11, the Forum 'Peru in Russia: Trade and Investments' took place at Prodexpo'2010.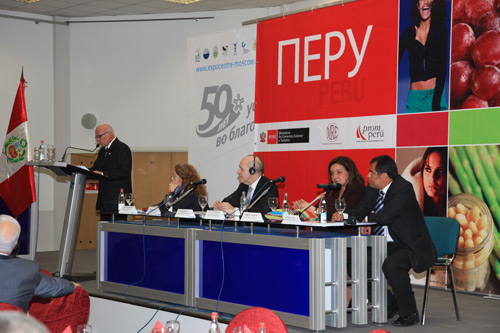 The Forum was opened by Petrov G.G., the Vice President of the Chamber of Commerce and Industry of the Russian Federation. Marta Elena Toledo-Okampo, the Ambassador of Peru, draw the participants' attention to her welcome address.
The presentation was also made by Krayniy A.A., the Chairman of the Intergovernmental Combined Russian-Peruvian Commission of Commercial and Industrial, Scientific-Technical Cooperation and Fishing Industry, the Leader of Federal Agency of Fishing Industry.
The perspectives for developing Russian-Peruvian trade and economic cooperation were discussed during the Forum. Furthermore, there were organized the meetings of Peruvian and Russian businessmen.
Organizer: PROM-PERU
The meeting of Peruvian and Russian businessmen is aimed at establishing commercial contacts. The negotiations of 25 Peruvian companies are to take place within the framework of the meeting, the purpose of which is to discuss the problems concerning promotion of Peruvian goods at the Russian market.
The Republic of Peru takes part in the biggest international exhibition Prodexpo in Expocentre for the first time.
http://www.prod-expo.ru/en/
---