News
12 / 02 / 2010
NEW!

Gold awards by World Intellectual Property Organisation in the framework of the PRODEXPO-2010 exhibition

9th Fabruary on the Brands Avenue TM, which is launched for the first time as a platform for official exhibition ceremonies at EXPOCENTRE Fairgrounds in the framework of the PRODEXPO-2010 exhibition (the biggest exhibition in Russia, CIS and Eastern Europe), the winners of the Inventors contest held in December 2009 were awarded two gold medals by World Intellectual Property Organisation.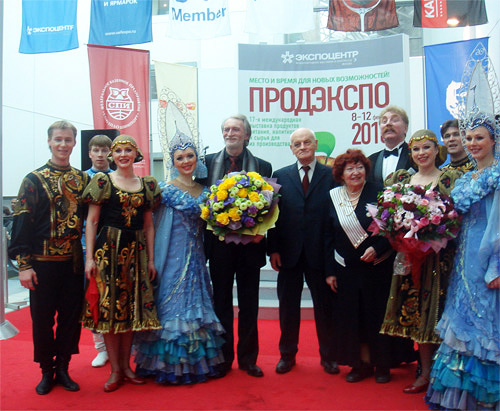 At the First international forum on intellectual property Expopriority-2009 two gold medals by World Intellectual Property Organization were unprecedentedly granted to the participants of one contest. The medals were granted to:
Tatyana TETERINA – Doctor of Medicine, Prof., Member of the Russian and European academies of sciences, winner of the V. ROENTGEN Award,               V. CHIZHEVSKY  award, the author of 10 patents and more than 200 scientific monographs. She is a developer of a new technology of correcting human health by means of colors.
Said GUBAIDULLIN – the general constructor and designer of a special anatomically designed XXI-century suit, which protects all vulnerable parts of the body from injuries when falling, getting struck etc.
A big contest program was organized at the first International Forum on Intellectual Property Expopriority-2009. 8 medals were granted by organizers, 10 diplomas were presented by All-Russian Society of Inventors and Rationalizers (VOIR). Many prizes and awards including those instituted by Belgian Chamber of Inventors were granted to the winners of the VII All-Russia Zolotnik contest.
The Chamber of Commerce and Industry of the Russian Federation considering the development of innovations a very important issue was a co-organizer of this unique event. The Forum was supported by international organizations such as: World Intellectual Property Organization (WIPO), The Global Association of the Exhibition Industry (UFI), The Eurasian Patent Organization and others. World Intellectual Property Organization (WIPO) have officially announced their support of the second International Forum on Intellectual Property Expopriority-2010, which will take place at EXPOCENTRE Fairgrounds 7-9 December this year.
Federal and regional government authorities, professional unions and non-governmental organizations, patent offices and entities of different legal statuses showed their keen interest in the Forum.
195 institutions, firms, organizations and individual inventors from 6 countries participated in the Forum-2009.
The main target of the Forum was to develop the direct marketing of innovations by the expansion of temporary protection of pieces of industrial property according to the article 11 of Paris convention on protection of industrial property.
The honor of granting the awards was given by WIPO to the Chairman of Inventors Contest International Jury, the President of The Russian Association of Trade Mark Owners, Doctor of Science, Professor Lev Komarov and Deputy General Director of EXPOCENTRE Fairgrounds Mikhail Tolkachev.
The Russian National Show 'Kostroma' which has already been sponsored by EXPOCENTRE (as a general sponsor) for 5 years and the Honored Artist of Russia Vasily Pyanov performed in honor of the awardees.
---