News
06 / 02 / 2017
Foodstuffs from all over the world at Prodexpo 2017
Expocentre Fairgrounds hosts the 24th edition of the International Exhibition for Food, Beverages and Food Raw Materials – Prodexpo 2017. The official opening ceremony was attended by representatives of the Russian Ministry of Agriculture, deputies of the Russian Federal Assembly, representatives of industry associations, and foreign officials.
In his welcome address, Expocentre General Director Sergey Bednov said that "over 20 years Prodexpo has become the largest and most respected annual food trade show in Russia and Eastern Europe. It greatly influences the development and filling of the Russian food market.
Prodexpo always impresses. This year is not an exception. If we compare it to the previous year the floor space has grown by 12%, and the number of exhibitors has increased by 11%. More than 2100 companies occupy about 100,000 sq m to demonstrate the best foodstuffs and beverages. The exhibition includes 28 product sectors, which will show new brands for the Russian food market."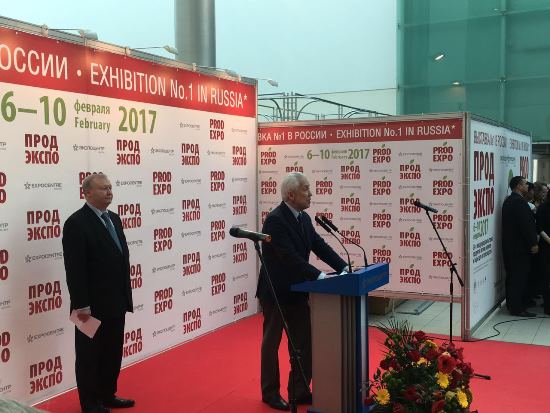 Deputy Chairman of the Russian State Duma Vladimir Vasilyev stressed that that Russia's main treasure is its people who work in agriculture. It is growing thanks to them.
Russian Deputy Minister of Agriculture Evgeniy Gromyko talked about a growing potential of Prodexpo. "Over the years the show has made a huge step forward. Today it allows exhibitors to learn from each other and exchange experience in production of agricultural products of the right quantity and quality," said Mr. Gromyko.
Deputy Minister also mentioned the recent successful growth and future plans of the Russian agribusiness, especially winemaking.
President of the Russian Chamber of Commerce and Industry Sergey Katyrin believes that "the efforts taken by the government in the recent years have given a great effect. There are more new companies, new products and brands. One can witness it at Prodexpo 2017."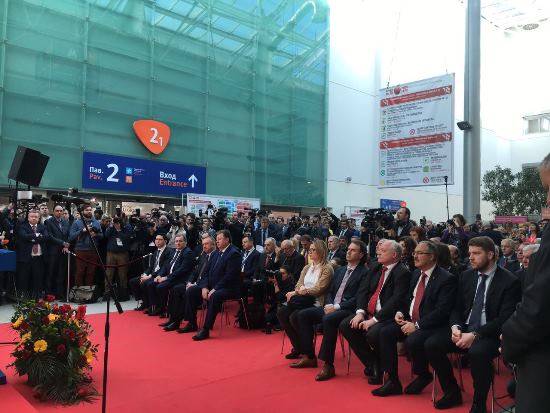 Chairman of the Russian State Duma Committee on Agriculture Vladimir Kashin drew attention to a social importance of Prodexpo.
First Deputy Chairman of the Council of the Federation Committee for Agrarian and Food Policy and Environmental Management Sergey Lisovsky said that it was the tenth time that he attended the opening ceremony of Prodexpo and he could personally see all its changes. "When ten years ago I was talking about exporting Russian-made products, people did not believe me. Today we see that Russian export is growing."
Prodexpo is open till February 10, 2017.
See more at http://www.prod-expo.ru/en/
Press Service, Expocentre AO
---