Alcoholic Drinks. Wine Salon
On the Salon
The Alcoholic Drinks. Wine Salon is Russia's largest showcase of alcoholic beverages.

For all players of the alcoholic drinks market participation in Prodexpo is not only a unique opportunity to cement existing business relations and find new partners but also evaluate the company's standing on the market.

For retailers and distributors attendance at the Salon is an opportunity to
evaluate a wide range of alcoholic drinks of the best Russian and foreign brands;
get information about new alcoholic drinks of various categories and prices;
sign lucrative contracts.
Exhibitors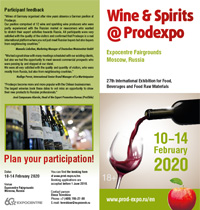 Booklet
More than 365 producers and importers of spirits, wine and beer from 30 countries.

The Salon participants are Russian producers and distributors of Russian and imported alcoholic drinks, foreign producers, importers and exporters.

Participating countries:
Argentina, Armenia, Austria, Azerbaijan, Belarus, Bulgaria, Chile, China, Czech Republic, France, Georgia, Greece, Hungary, Italy, Japan, Kazakhstan, Lithuania, Macedonia, Mexico, Moldova, Peru, Poland, Portugal, Romania, Russia, Serbia, South Africa, Spain, Tunisia and Uzbekistan.

The recent trend is increase in the number of participants from North Caucasus (Stavropol Krai, Kuban), Central Region, North West, Crimea, and South Regions (Krasnodar Krai).
Products
vodka
brandy
whiskey
liqueur
alcohol infusion

gin
rum
wine
aperitif
sparkling wine

vermouth
beer
beer drinks
wine making material
Visitors
66,915 Visitors (+7.9% compared to 2018) from 112 countries, 85 including regions of Russia.
Job titles
81% of visitors are decision makers or main influencers
48% of visitors plan to buy after the exhibition
Industry sectors
Retail chains 11.04%
HoReCa, restaurants, catering 9.5%
Wholesale of alcoholic beverages 7.32%
Retail of alcoholic beverages 6.79%
Main visitor  goals
To sign contracts / agreements 48%
Procurements 47%
High visitor satisfaction figures confirm a strong ROI
86% of visitors achieved their goals and consider their attendance effective
98% of visitors would recommend their colleagues to visit Prodexpo
Visitor interests
Alcoholic drinks. Wine. Beer 22%

Visitors geography

58% – Moscow and Moscow region<
32% – All other Russian regions
6% – CIS
4% – other countries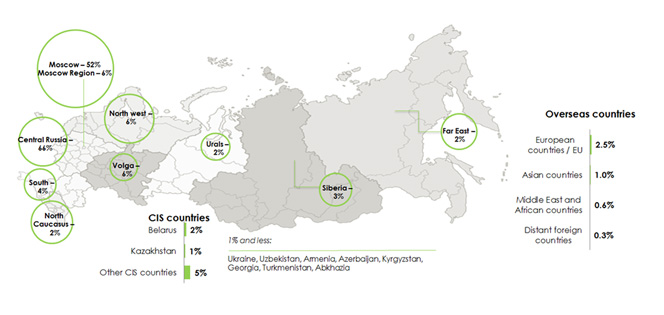 Source: Romir Research Holding
More detail >>
Associated Events
The Salon associated events are related to the development of the alcoholic market and solutions of the most pressing issues of the industry.
Key events
AlcoCongress is the only networking platform for key players of the alcohol market: leading analysts, federal and regional public authorities. The congress also features the Wine and Glass Forums.
The Wine from Russia project is an educational program on Russian winemaking where the industry professionals taste wines and hold seminars on development of Russian winemaking and 'wine education'. The project is supported by leading industry associations such as the Union of Winegrowers and Winemakers of Russia, the Wine-Producing Alliance Association, the Russian Sommelier Association, the Federation of Restauranteurs and Hoteliers of Russia, the Association of Sparkling Wine Producers.
The International Tasting Competition has been held for over 10 years. According to the international practices, tasting and sampling check of chemical composition are carried out in advance. It allows making quality analysis of each drink.
To participate in the Salon please contact:

Elena Tereshina
Phone: +7(499)795-27-98,
tereshina@expocentr.ru
Related industries are presented in the following Prodexpo salons:
Glass Containers
Closures. Packaging Design. Beverage Processing
Packaging Solutions for the Food Industry