Press & Post Releases
06 / 02 / 2020
Press Release PRODEXPO 2020
<
27th edition of the International Exhibition for Food, Beverages and Food Raw Materials
Today, Prodexpo is the main and most respectable trade show of the food industry in Russia and Eastern Europe. It is a source of the most relevant information about market trends.
According to the Russian National Exhibition Rating, Prodexpo is Russia's largest exhibition in regards to the size of exhibition space, professional interest and market coverage.
It is the place where global brands and manufacturers of food and beverages from all over Russia and the world demonstrate the greatest variety of high quality products, new trademarks and brands. Prodexpo exhibitors have ample opportunities to enter new markets and generate sales leads not only within Russia but also in other countries.
Currently, one of the most significant trends on the Russian food market is development of the export potential of Russian companies and Russian regional brands. Prodexpo is a shortcut to other regions, territories and countries. The interest of Russian manufacturers in new sales markets is growing more and more. This year, over 500 Russian companies from different regions of the country are offering their products for export.
For what it's worth, Russian-made food and beverages are quite popular abroad. According to the Prodexpo registration figures, 29% of the visitors are exporters. The main destinations are Belarus, China, Estonia, Georgia, Kazakhstan, countries of Latin America, Latvia, Lithuania, Thailand, and Turkey.
The contracts signed at Prodexpo include not only supplies of products to major retail chains but also to various stores and exclusive restaurants. That is why here one can find buyers from federal and local retail chains and HoReCa, as well as corporate buyers.
The opening ceremony will be held on February 10 at 12.00 in the Gallery between Pavilions No.2 and No.8.
Dates: 10–14 February 2020
Opening hours: 10–13 February: 10.00 – 18.00; 14 February: 10.00 – 16.00
Venue: Expocentre Fairgrounds, Moscow, Russia
Organised by Expocentre AO
Supported by the Russian Ministry of Agriculture, the Russian Ministry of Industry and Trade
Under auspices of the Russian Chamber of Commerce and Industry
Exhibition area: 100,000+ sq m
Total number of exhibitors: 2,621 companies
Russian exhibitors: 1,850 companies
Countries: 70
Foreign national pavilions: 31 countries (Argentina, Armenia, Azerbaijan, Belgium, Brazil, Chile, China, Croatia, Cuba, France, Greece, Hungary, India, Indonesia, Italy, North Macedonia, Moldova, Poland, Portugal, Serbia, South Africa, South Korea, South Ossetia, Spain, Sri Lanka, Tajikistan, Thailand, Turkey, Uruguay, Uzbekistan; this year's newcomers are Uganda and Venezuela; the Philippines will have its first national pavilion at Prodexpo 2020)
Russian regional pavilions and group stands: 47 (representing the total number of 391 companies from the Republic of North Ossetia – Alania, Altai, Khabarovsk and Stavropol Krais, Astrakhan, Vladimir, Volgograd, Vologda, Kirov, Kostroma, Kursk, Novosibirsk, Omsk, Orlov, Penza, Pskov, Ryazan, Tambov, Tver, Tula, Ulyanovsk, Yaroslavl Oblasts, and 25 newcomers: the Republics of Adygea, Buryatia, Dagestan, Kalmykia, Karelia, Mordovia, Chechen, Kabardino-Balkar, Karachay-Cherkess, Khakassia, Mari El Republics, Arkhangelsk, Belgorod, Bryansk, Chelyabinsk, Kaliningrad, Leningrad, Moscow, Rostov, Samara, Saratov, Voronezh Oblasts, and Kamchatka, Krasnodar, and Perm Krais)

General exhibition sponsor: Barry Callebaut NL Russia.
Barry Callebaut, the global leader of chocolate, glazing and cocoa products production, officially presents Ruby in Russia. Ruby is the fourth global discovery in the coca industry. It is a new addition to the family of dark, milk and white chocolate recipes. After the ten years of research and perfecting technologies and recipe, Barry Callebaut has brought to the market an absolute new product made from special Ruby cocoa beans, which grow in Ecuador, Brazil and Cote d'Ivoire.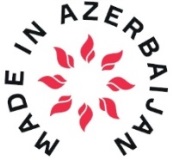 Official exhibition sponsor, sponsor of gala dinner: the Azerbaijan Export and Investment Promotion Foundation (AZPROMO). The Made in Azerbaijan group stand brings together more than 30 companies showing a lot of different products from fresh produce to canned food, from natural mineral water to various alcohol and soft drinks, teas, nuts, honey, dried fruit, confectionery, etc. Well-known chefs from Azerbaijan will hold master classes and share their secrets about recipes and history of traditional dishes of the Azerbaijani cuisine.

Strategic media partner: RBC
"Over the years Prodexpo has become one of the largest trade shows in Russia demonstrating quality food and supporting implementation of priority national projects. A comprehensive supporting programme will touch on the most relevant issues of the food industry, and the participants will discuss the main development trends in the food market."

Dmitry Patrushev, Minister of Agriculture of the Russian Federation
Showcase
Prodexpo 2020 features 30 product sectors with food and beverages from all over the world from everyday products to fine foods, organic products, sports and healthy nutrition, halal, kosher and exotic foods.
The traditionally largest sector of Meat and Meat Products. Cooked Meats. Poultry, Eggs welcomes more than 120 companies from Argentina, Armenia, Belarus, Brazil, Hungary, India, South Korea, Paraguay, Russia, Serbia and Uruguay. They will show various types of meat – beef, including marbled beef, pork, lamb, venison, and horse meat. The key exhibitors include Miratorg, Cherkizovo (Petelinka™) , Ostankino Meat Processing Plant, Mikoyan Meat Processing Plant, Velkom, Agrosila, Prodo, Agropromkomplektatsiya (Blizhnie Gorki™), Tambov Bacon, and ABI Product.
This year, more poultry is showcased, including not only chicken, but also duck, turkey, and quail. The newcomers are Kamsky AIC, Russkoe Pole, Ulibino Duck Poultry Farm (will bring duck meat for the first time), Malahovskiy Myasokombinat, Seymovskaya Poultry Production Factory, Farm Bird, and Integra. At the same time Damate, Resource Group, Agrosila, Ekol, Uglich Poultry Farm, Praxis-Ovo, Bogorodskie Delikatesy, and ES Agro strengthen their market presence.
The Dairy Products. Cheese sector features 190 companies from 11 companies. The new exhibitors are Irbitsky Dairy Plant, Strana Vasilki (Belarus), and Bologovskiy Molochny Zavod.
Velikolukskiy MK, well-known for its Kabosh trademark, shows Cheddar, Parmesan, Maasdam, and Tilsiter. Arla Foods (Natura, Apetina, Castello trademarks) will show pickled cheese and grated fresh cheese made for HoReCa. Ichalkovsky, Sarmich and Pochinki butter and cheese factory offer natural cheese without vegetable fats at the Mordovia group stand.
Dairy products will be presented by Komos (Selo Zelenoe™), Remma Holding, Babushkina Krynka, Tkachev Agrocompleks, Yunikom, Vamin Tatarstan, etc.
The large Groceries. Cereals. Pasta. Spices, Kitchen Herbs sector welcomes more than 160 companies from 16 countries, including the First Grain Company (Passim™), AFG National, Resurs (Uvelka™), Agro-Alliance, Mistral, and Goodwill. Pasta and flour are brought by Novokuznetsk Flour Mill, Vnuk, Altan, Petrovskie Nivy, Family Stocks, and Crown of Stavropol. Aidigo, Raspak, Arikon, Agroimport, Santus, Arta Group, Saratov-Lavr, and Cheltrade are among companies which show a lot of different spices and herbs. Doshirak, Ancom, and Farsis and others offer instant food.
The sector of Fish and Seafood will show live, chilled and quick frozen fish, seafood, caviar, gourmet fish, snacks, canned fish and seafood. Russian manufacturers showcase a wide range of sea, river, lake and farmed fish. The geography is also impressive. The exhibitors come from all over Russia from Kamchatka to Kaliningrad and from Murmansk to Astrakhan. The exhibitors include BaltKo (VICI™), Russian Fishing World, Produktgarant (5 Seas and KEANO trademarks), Dalpromryba (Captain of Tastes and Maguro trademarks), Antey (Russian Fish Factory™), Baltic Coast, and Vkusnye Konservy. This year's newcomers are Russhoreca (specializing in supplying fresh fish to HoReCa), S.P.A. International Food Group Co., Ltd. (with canned tuna from Thailand), Aquamarine Trading House (with canned krill meat), Yamalik (with Top Sort Ryba canned fish), Imperiya Delikatesov (with fresh frozen fish), and Severo-Zapadnaya Torgovaya Kompaniya (with canned fish).
The traditionally large sector of Confectionery. Snacks. Nuts. Dried Fruit. Bakery shows products of 475 companies from 28 countries. As people pay more attention to healthy life style, products will include healthy options without sugar and with stevia.
ProdexpoWine has greatly expanded its geography and increased the number of exhibitors. This year it welcomes 366 companies from 38 countries.
Other large sectors are devoted to Canned Food. Sauces. Ketchups (184 companies from 16 countries), Juices. Mineral Water. Soft Drinks (150 companies from 21 countries), and Tea and Coffee (120 companies from 14 countries).
The trending sectors of Prodexpo 2020 are Functional Food (110+ companies), Products for Restaurants (30+ manufacturers), and Prodexpo Organic with more than 40 companies from Russia, Brazil, Germany, Italy, Latvia, Serbia, Spain, Thailand and others. The topic of organic products is especially important now that the Russian law on organic products was put in force on January 1, 2020. Just like last year, all stands of Prodexpo Organic will be located in a special area indicated with a special sign.
This year's premiere is the Street of Retail Technologies project (Pavilion No.6, Stand 6Â15) with the latest optimization solutions for retail chains and stores such as business process automation, gamification solutions for staff training, LED equipment, and shopping carts and packaging.
The Wine from Russia project (Pavilion No.3, Stand 3Â60) was created to support winemaking in Russia. It exclusively presents companies which make wine from Russian grown grapes. It also largely serves the educational purposes. The Wine from Russia offers a series of educational workshops and master classes devoted to Russian wine growing, including wine making using indigenous grape varieties.
This year Prodexpo features its first Counselling Centre for Refrigeration Technology, which is organised with assistance from Rossouyzkholodprom. You can find it in Pavilion No.6, Stand 6Â94.
The Retail.ru studio, the industry's largest portal, offers both exhibitors and visitors to make a short video about their companies or projects. All videos will be published on the official Facebook page of the Retail.ru Business Center. Retail.ru will be located in Pavilion No.1, Stand 12Â10 on the balcony next to the Centre of Retail Chains.
Expocentre's unique project Expocentre for Counterfeit-Free Exhibitions will be carried out on each day of the exhibition in Pavilion No.2, Hall, 1, Stand 21D95. The Employment Centre will help to handle HR-related matters right on the show floor in Pavilion No.8, Hall 5, Stand 85À20.
Event Programme
The programme of Prodexpo 2020 includes a lot of events and activities devoted to the most relevant issues of the Russian food industry.
The event programme will be opened with the Session on the Food and Beverage Market: Focus on Export, Healthy Lifestyle and Organics, organised by RBC, which is the strategic media partner of Prodexpo 2020, and Expocentre AO. The event will be focused on the new Russian law on organic products, new opportunities and restrictions, biotechnologies and healthy life style, export potential of Russian food and beverages, development of the wine making industry in Russia, etc. The event's participants include representatives of the Russian Ministry of Agriculture, the Russian Ministry of Industry and Trade, the Russian Ministry of Economic Development, the Russian Ministry of Transport, Russian Export Center, the Russian Direct Investment Fund, the Moscow City Government, the Moscow Region Government, the Russian Chamber of Commerce and Industry, the Moscow Chamber of Commerce and Industry, Business Russia, OPORA RUSSIA, key industry associations, major chain retailers X5 Retail Group, Magnit, Lenta, Auchan, and digital platforms Yandex and Mail.ru.
The 15th Russian Food Forum "Supplier for Retail Chains" with Purchasing Centre for Retail Chains™, which are Prodexpo's mainstays, are organised by Imperia KVK and Expocentre AO.
This year Purchasing Centres for Retail Chains™ FOOD and Store Brand will have two additions: HoReCa and International. Suppliers will have talks about supplies with more than 250 buyers from more than 100 federal and regional retail chains. The regular participants include Magnit, Auchan, VkusVill, Î'Key, Dixy, BILLA, Perekrestok, SPAR Russia B.V., Pyaterochka, Karusel, Maria-Ra, Magnolia, and many others. This year, suppliers have an opportunity to sign contracts not only with retail chains but also chain restaurants, hotels and cafes. The Purchasing Centre for Retail Chains™ will offer negotiations with more than 50 buyers from more than 30 chains of cafes, restaurants and hotels.
Another of this year's addition is the Best Practice from experts of Export and Import 2020. More than 15 speakers will share their knowledge about ambitious projects in Europe and rare information about export to North America. They will also answer all questions during the lectures as well as during breaks accompanied with degustation sets. The event's participants will exclusively receive the 10 Golden Rules for Exporters/Importers booklet.
The Conference on Lawful Organic: Living by New Rules, organised by Look.Bio and Expocentre AO, deserves a special attention as it is going to answer questions about the new law on organic products, including those related to the unified register, certification, and a status of foreign bio products.
The International Centre of Standardization and Certification "Halal" of the Russian Mufties Council will hold the Halal International Congress and the award ceremony for the The Best Halal Product at Prodexpo 2020 competition.
Other events include
2nd Conference on In-House Production as a Competitive Advantage of a Retail Chain, organised by Retail.ru, Imperia, Expocentre AO
Centre of Retail Chains™, organised by Imperia, Expocentre AO
24th Russian Food Forum "Store Brand 2020", organised by Imperia, Expocentre AO
14th International Food Forum " Marketing and Advertising", organised by Imperia and Expocentre AO
Consultation Session of Russian Export Center: Export Support for Russian Agricultural Products, organised by the Russian Chamber of Commerce and Industry, Russian Export Centre, Expocentre AO
Conference on Baby Food, organised by Expocentre AO, the Federal Research Institute of Nutrition and Biotechnology
15th Russian Conference on the Alcoholic Beverages Market – AlcoCongress 2020 and 6th Wine Forum, organised by Kitmedia Group, Expocentre AO
Annual Round Table on Russian Hospitality, organised by the Russian Chamber of Commerce and Industry jointly with the Russian State University of Tourism and Services, and Expocentre AO
See the full schedule of events here>>.
This years' competitions include
15th International Competition for the Best Packaging and Label for Foodstuffs, Perfumes, Cosmetics and Beverages ProdextraPack 2020
Prodexpo Organic Awards
Taste Experience 2019
Choice of Retail Chains Competition. Presentation of participating products to retail chains
Innovative Product Competition
22nd International Tasting Competition
The Best Product 2020 International Competition
Prodexpo Wine Competition & Guide
Competition for the Best Consumer Properties
See the full schedule of competitions here>>.
See more at Prodexpo's official website at https://www.facebook.com/prodexporu/
Press Service, Expocentre AO